Air/Water Wireless Thermometer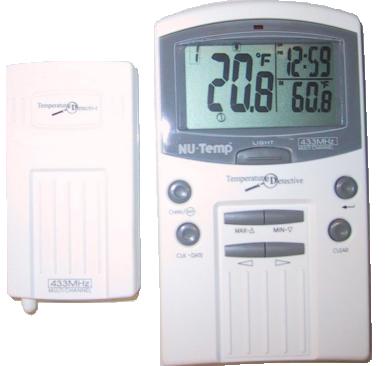 Monitor temperatures with ease! No wires to run, no cords to trip over!
Place the Transmitter where you want to monitor the temperature. You will then be able to monitor the temperature from up to 100 feet away on the main unit. Can be mounted on partition, wall or window. Up to four remote locations can be monitored from the main station. You can also check the temperature at the main station without using an additional transmitter. The temperature is updated every 30 seconds if it has changed. The temperature range of this unit is -58oF to 158oF.
Home uses include monitoring pools, spas. baby's room, wine cellar, garage, aquariums or just the outside temperature. Commercial uses include Semi Tractor Trailers, Refrigeration, Fishing, Marine, and for RVs.
This Product has also been used in agriculture for potato storage, cranberry bogs, and citrus orchards to monitor temperatures at multiple sites from one location.
NU-600 Product Specifications & Features:

Easy Installation! No expensive wiring or transformers required
Easy to use function keys
Indoor/Outdoor Temperatures Displayed
Low Battery Indicators
Long battery life, transmits only when temperature changes
Up to 100 foot operation range
Automatic Security Code Test features secure operation
Receiver battery life up to one year based on settings
Clock, Date & Alarm Features
Temperature sensor & Transmitter Unit mounting hardware
Includes complete installation, setup, and operation instructions
Centigrade or Fahrenheit display
Up to 4 remote sensors
Additional Sensor Part Number NU-650
Auto Scroll Location Feature
Ice Alert Feature
Min/Max temp memory display for each location
Status displays on all sensor locations
Water Resistant Sensor
Auto dimming light
Retractable 40" probe for pool use
Product Instructions
Adobe Acrobat Reader Required
This product has been discontinued. Please see the replacement unit, the NU-601 Simple Wireless Thermometer.