Chemical Storage Table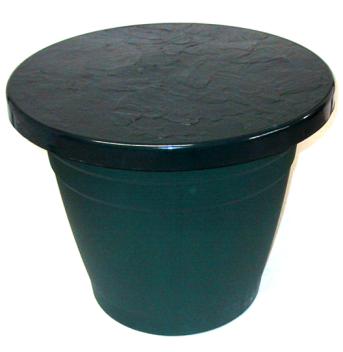 The Chemical Storage Table is the ideal pool-side accessory. It easily conceals a bottle of pool or spa chemicals where they're needed. Imagine the convience of having what you need right at hand. And of course, it's not just for chemicals either. Fill it with ice and you'll have a good spot to hide your beverages in. Or keep the kid's pool toys cleaned up and out of sight when they're done playing. (Make sure to wash it out if you were previously storing chemicals in it) Drainage holes ensure that water will not collect in the base. It stands approximately 18" tall with an 18" table top.
We offer 7 different color choices for the table top, and 3 different base colors for 21 different color combinations. The table tops are made from furniture grade PVC for long life and include a slate finish to help hide scratches and wear. The base is also constructed of high quality plastic for durablity.