High Temp Alarm Thermometer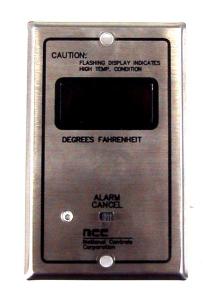 The NU-30 features a settable high temperature alarm that will alert you with both visual and audio alarms to a high temperature condition in whatever situation you are monitoring. The display flashes and an 85 dB alarm will sound until either the alarm cancel button is pressed or the temerature drops, thus eliminating the alarm condition.
The face is made from stainless steel, and blends easily with other stainless steel appliances. It is also protected from mechanical shocks and abuse.
The temperature range on this unit is -40o to 240o F. The high temperature alarm can be set to any temperature between -10o and 220o F. The sensing probe can be up to 250 feet away from the thermometer itself and is easily extended using any 2 conductor copper wire.
The unit also comes with a tansformer so that is can be installed in a matter of minutes.
Product Specification
Operational Voltage
12 to 16 volts AC or DC
Accuracy
+ or - 1 degree
Temperature Range
-40o to 240o F
-40o to 115o C
Temperature Alarm Range
-10o and 220o F or Celsius equivalent
Audio Alarm Level
85 dB
Product Instructions
Adobe Acrobat Reader Required
This item has been discontinued. Please contact us for replacement information.