Simple Wireless BBQ Thermometer and BBQ Taste-Temp Fork Combo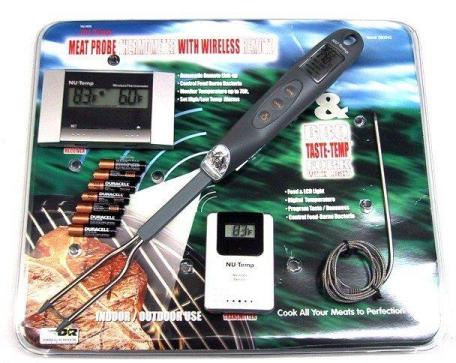 Know the temperature of your barbeque up to 100 feet away from the grill itself! With the Simple Wireless BBQ Thermometer, you are no longer tied to the grill to keep a constant watch over the meat. In fact, it allows you to set the desired cooking temperature, and walk away! An alarm will sound when the temperature is reached, letting you know it's time to eat!
If you wish to monitor more than one temperature, the unit is expandable to up to three remote transmitters, allowing you to monitor the temperature of three locations or meals from one main station. To expand the capability of your NU-701, please purchase the NU-751, Simple Wireless BBQ Thermometer Remote Transmitter.
We also include a BBQ Taste Temp fork. It features 5 different meat types with 4 different levels of doneness. Also available is a user defined selection that allows you to cook a meat to your specific tastes. Also the fork features a built-in food light for grilling at any time of the day.
BBQ Fork Instructions
Simple Wireless Instructions
Adobe Acrobat Reader Required


We apologize, but this item is currently backordered.