Simple Wireless BBQ Thermometer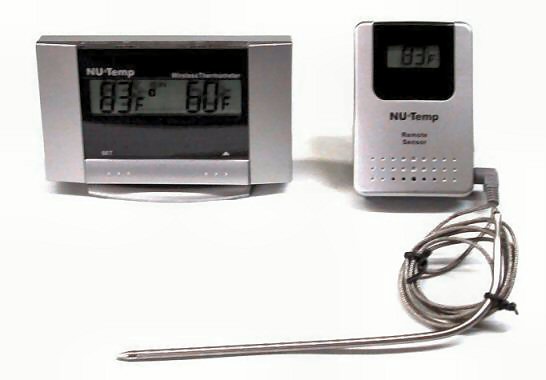 Know the temperature of your barbeque up to 100 feet away from the grill itself! With the Simple Wireless BBQ Thermometer, you are no longer tied to the grill to keep a constant watch over the meat. In fact, it allows you to set the desired cooking temperature, and walk away! An alarm will sound when the temperature is reached, letting you know it's time to eat!
If you wish to monitor more than one temperature, the unit is expandable to up to three remote transmitters, allowing you to monitor the temperature of three locations or meals from one main station. To expand the capability of your NU-701, please purchase the NU-751, Simple Wireless BBQ Thermometer Remote Transmitter.
Both the NU-701 and NU-751 come with the standard probe for temperatures up to 392oF. The standard probe can be connected or disconnected at any time without having to worry about performance being affected or having to reconfigure the unit for the new probe.
Uses:

Steaks, Roasts, Fish, Chops, Hamburgers, Turkeys.
Can use on Clam Shell Style Grills (George Forman Grill), in the Oven, or on the BBQ.
Monitor Outside temperatures with no wires
Monitor refrigeration equipment, HVAC.
Main Station Features:

Automatic Remote Sensor Link-Up
Set High or Low Temperature Alarm
Automatic Security Code
Easy to Set Temperature Alarm
C/F Degrees Selection
Auto Scroll Remote Sensors
Temperature Range - 40F to 392F
Low Battery Indicator
Wall-Mount or Desktop
Icon Driven
Uses 2 AAA batteries
Supports 3 Remote Sensors
Displays Alarm Set Temperature or Indoor Temperature
Remote Transmitter Features:
Food or Meat Temp up to 392F
Range up to 100ft.
Special BBQ Probe
Low Battery Indicator
Uses 3 AAA batteries
LCD Temperature Display
Internal Sensor when probe not in use
Please remember when using the Simple Wireless Thermometer to keep the probe out of direct contact with flame. Also take care not to submerge the probe in oil or boiling water.
Product Instructions
Adobe Acrobat Reader Required
We offer UPS Next Day Air, UPS 2nd Day Air, and UPS 3 Day Select. Please call us at 715-421-0445 for a price quote and to expedite your order. Please note that an additional handling charge may apply.
We apologize, but this item is currently backordered.